The Music of
Miguel Angel Maymón
(1912-1993)
The Trio Vegabajeño is Puerto Rico's most famous vocal Trio,
named The National Trio Of Puerto Rico,
they recorded a number of Miguel's songs since 1949,
in 78 rpm records and later in 33 rpm albums.
dates below are estimated, if you know the exact dates of these recordings let me know.

Pasodoble
'Douglas McArthur'

Trio Vegabajeño
1958
Ranchera 'Pa' eso soy hombre'


'That's why I'm a man'




Fernandito Alvarez and his Trio Vegabajeño




1952




this recording has excellent guitar work
The Trio Vegabajeño and Miguel
Pasodoble

'Arquelio'


Trio Vegabajeño
1950, 1952, 1959, 1989
Ranchera 'Trigueñita'
Trio Vegabajeño
1959, 1965, 1979


another recording with excellent guitar work
Waltz
'Apiádate de mi'

Fernandito Alvarez and his Trio Vegabajeño
1956
Miguel met

Benito De Jesus

and

Fernandito Alvarez

, founding members of the famous
Trio Vegabajeño, around 1947 at 'Camp Tortuguero',
a US Military training facility located on the north coast of Puerto Rico,
Miguel was an Agronomist and worked for the US Dept. of Soil Conservation from 1939 to 1960,
in the agricultural area of Manatí, Puerto Rico.

Benito and Fernandito were members of the US Army, originally from the town of Vega Baja,
and they frequented the camp;
it was there that a friendship was forged, which resulted in the recordings of Miguel's songs,
and collaborations like the Bolero/Ballad

'A Mi Madre'

(

'To my Mother'

)
which was co-written by Benito de Jesus and Miguel A. Maymón,
later recorded by the

Duo Irizarry de Córdova

around 1961.

When I was 6 years old, the Trio Vegabajeño used to get together with my father to rehearse
these songs in a house my parents had at a beach called 'Mar Chiquita' ('Little Sea'),
not far from Camp Tortuguero, this popular beach is the caldera of a volcano!!
I remember my father singing the melodies and playing his violin
while Benito and Fernandito repeated phrases with their guitars;

(click

here to see a 1958 picture of

'Mar Chiquita' beach

taken from that house).

I was very fortunate in my first 6 years of life since my father took me
everywhere with him, growing up in the cattle ranches and pineapple plantations
of the agricultural towns of Vega Baja, Barceloneta, Ciales, and Camuy,
which he inspected as part of his work;
not to mention I witnessed those rehearsals of the Trio Vegabajeño!
It's no wonder why they became

The National Trio of Puerto Rico.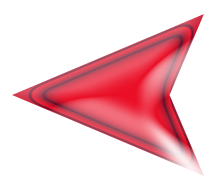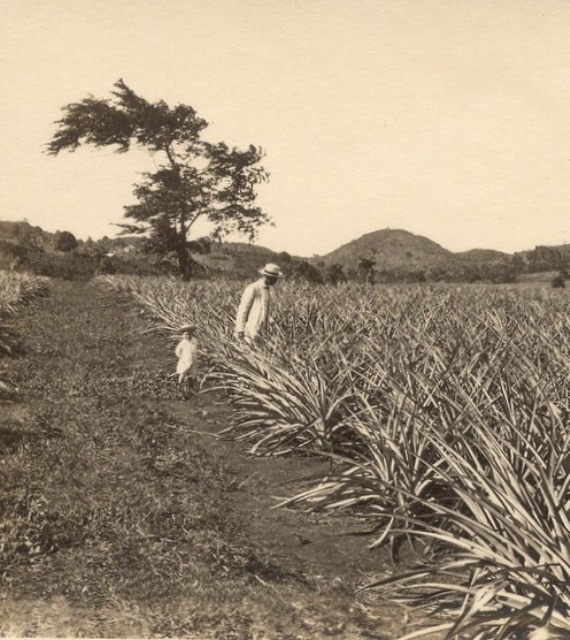 a Sunday at a pineapple plantation circa 1956
Waltz
'Rie, Payaso'


'Laugh, you Clown'



Trio Vegabajeño
1954, 1966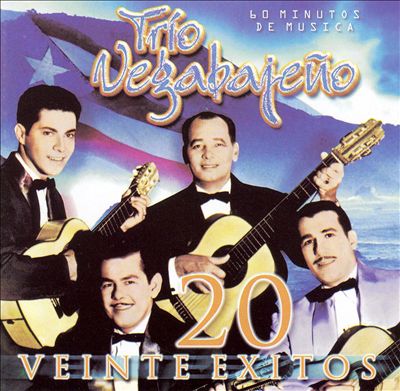 click on each image to magnify them, come back to this page clicking on the Back Button < of your browser
The 'Pasodoble' or 'Double-Step'
is a type of Spanish rhythm similar to a 'March'.
This popular song is about Arquelio Torres Ramirez,
a famous puertorican Basketball player
who died young in 1949.

The 'Ranchera' or 'Ranch-Step'
is a type of 'Waltz'.
this song is about the pains a man endures
when he falls inlove.

this song relates the achievements
of the famous General Mc Arthur in Japan and
The Phillipines.

This song is about a 'Trigueñita',
a bronze-skinned female of the islands.

This love song's title means 'Have pity on me'
Copyright © Josie Maymón 2020
Copyright © Maymón-Rivera Succession 1993-2020
All Rights Reserved
All Content in these pages is Copyrighted Property
of above named owners.